Hey guys,
2014 is coming to an end and I want to do things that I've always wanted to do on my blog. One of them is.... creating a music series. Whoop whoop!!
It was beauty series last month and this month, another new series is up... it's called DanceWithAthaya. This series is named after one of my soundcloud playlist, "
feel my beat and dance with me
". It was too long, so I made it short and since I like to dance, it just makes more sense to combine the two meanings.
In this series, I'll be talking about new music, old music, the songs, the artists, and music related news.
I may not know much, but I'm the kind of person that cannot be separated from my earphone. I have to have music, if possible, 24/7. Even lately, I've been finding myself falling asleep to my soundcloud playlists!
Anyway, so I hope you guys are excited as I am because, music is just an essential thing in my life. I JUST LOVE MUSIC. Good music, of course!
The first singer and album I'd like to feature is:
The Pink Print by Nicki Minaj
I mean, I love love love love her songs especially #Moment4Life and this time, Nicki outdid herself with this amazing album.
I've realized since July, that Nicki have been working so hard and putting out so many singles and also appearing in other artist's songs, like August Alsina, Trey Songz, and even the Queen Bey herself.
Shall we all take a moment and appreciate the amazingness of FLAWLESS remix? I was obsessed with that song, and if you know me, you know when I say I'm obsessed, I mean I listen to the song for a week straight, no other song. I will listen to that song until I could find another song to obsessed over with.
What can I do? I love me some Nicki and Bey. And if I do say so myself, I ace Nicki's part flawlessly ;)

"...The queen of rap, slayin with queen Bey
If you ain't on the team, you playin' for team D
'Cause we A-listers, we paid sisters
This watch right here done faced blizzards
I confess, I woke up like this
All this drank in my cup like this
All this ass on that flawless d***
Instagram another flawless pic..."
Back to the Pink Print, let's start from the cover. I feel like this time around Nicki really wants to print her mark in the music industry. I love when people are being true to themselves and honest to other people, and she did just that in this album.
Saying that she's serious about her music, telling that not only she's the queen of rap but also she makes great quality music.

There's no time for playing around. With this album Nicki deserved to be recognized and respected in the music industry. We can see how hard she really wants her music to be appreciated and be on top of the charts.
Despite Only's cover single, she did think everything through. Even if some of you may say she's putting more sex-appeal than she ever did before. But if you just close your eyes and listen with your ears only, I assure you, you'd be blown away by how much feeling she puts in it.
The cover itself is named #1 Cover Album of 2014 by Complex. The design was created by Kanye West's DONDA Company.
No surprise there, Kanye is famous for his creative mind and his own perspective on ART. Which I think, have succeeded in a big way. Congrats.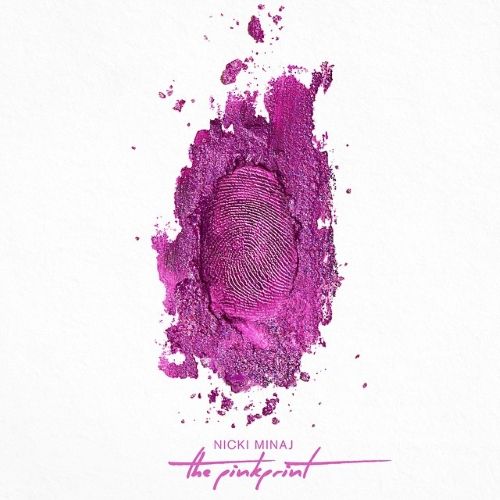 Move along to the songs, this album is named Nicki Minaj's best album to date by the billboard - which is major.
The songs are more of a story telling, about her journey in the industry; personally, emotionally and publicly.
Talking about how much feelings she puts in the album, the songs in it are full of emotion.
Heartfelt songs like All Things Go, telling that she lost her baby as a teenager and the death of her young cousin shows her new found musical maturity. And The Crying Game, where she shared her abusive relationship experience.
She also shows her vulnerable side through I lied, her own battle with trying to "let herself go".
And brought some nostalgic feelings by putting her mixtape on Four Door Aventadors, and Baby Got Back on Anaconda - which is my guilty pleasure and I think she looks beautiful in the pink swimsuit.
In this album there are some great love songs too, Bed Of Lies, Favorite, Buy A Heart, Pills & Potions and Grand Piano are some of them.
Among this impeccable album, there is Win Again where she raps about how she's certain that she got no competition "Not that I don't have a good vision, but I don't see any competition".
Another favorite song of mine is Only featuring Lil Wayne, Drake and Chris Brown. I was so excited to hear about this collab. My highschool days was full of their songs, from Marvin Rooms, to How To Love. From Take You Down, to Beez In The Trap.
Can we all just remember, the good ol days, Take It To The Head playing in the background.

In between these songs, there's Feeling Myself, an eargasmic song featuring Beyonce - I'm feelin myself, I'm feeelin myself...
Finally, a lovechild of of Starships and Moment4Life, The night Is Still Young. I love every bit of the lyrics in that song. Okay, I might not be too fond of the beat on the chorus part but I can look pass it, I guess.
It's no secret that Nicki knows how to have a good time, but not all knows her real story and the pain she been through.
So for those who thinks they can judge her like she got no heart, they can think again.
This album can relate to so many emotional phase and at the same time still having the time of our life.
Just like what Nicki is having right now, Her #Moment4Life.
P.S: The movie makes us understands more about the songs and it's really touching. My recommendation is getting the deluxe album because they have 22 gooooooooooooood songs that you're gonna love. Must buy album 2014. Guaranteed.


Stay Stylish,